Note
19/2/2023: Revised.
20/12/2014: Moved from wiki.
Intro
Need
Quantity Surveyors need to have knowledge to advise on the procurement strategy and contractual arrangement.
(added, 19/2/2023)
Why contract out? Why call for tenders?
Find someone to do it for you.
Someone:

More capable
Statutorily qualified
Less costly.

Accountability in case of joint venture.
When to decide?
As early as when the first project programme is developed.
Which types of contractual arrangement?
Choices of contract types based on
合同形式的選擇
Contract scope
按承包範圍分類
Design.
設計
Build.
施工
Design and build:
設計和施工

優點:

工程太簡單不必請建築或工程師。
取得承包方特有而一般的建築或工程師沒有的特殊設計優點。
取得承包方特有的建造方法或產品。
設計及施工時間可重疊,相應縮短了工期。
總的來說可省一些設計費。
由承包方單一負責,而減少多方參與責任不清的程度。有時這個好處被視為最大優點,使到根本不存在上述2及3點的工程都採用。
總造價較有保証。
可規定成品能滿足意向功能,此乃高於一般只需行使合理技能的標準。
在全包的情況下,承包方的索賠機會較少。

缺點:

發包方的要求寫得太死,承包方沒有自由設計的空間。
發包方的要求寫得太鬆,不能表達到預期的成果,或有空間給承包方索賠。
發包方不能隨意改動要求。
發包方對設計的改動要求,是屬於原要求範圍內還是超出範圍,往往會有爭議。
真的超出範圍而需計算增加費用時,因可能要與一個尚未設計好便改動了的方案比較,難度比較大。減內容亦有類似的問題。
鑑於總造價是基本封頂的,發包方會傾向在具體設計時增加內容及取最高的標準,令承包方吃虧。
鑑於總造價是基本封頂的,承包方會傾向在具體設計時盡量省料及取最低的標準,令發包方吃虧。
雙方合作不愉快時,爭議反為多了。

Design, build and operate.
設計、施工、營運
Management contracting.
Construction manager.
Pricing basis
按投標基礎分類
Based on firm bills of quantities, with reference to drawings and specification.
按確定工程量清單,參閲圖紙及規範
Based on provisional bills of quantities, with reference to drawings and specification.
按暫定工程量清單,參閲圖紙及規範
Based on drawings and specification, without bills of quantities.
只按圖紙及規範,不含工程量清單
Based on pre-priced schedule of rates, competing on adjustment percentage.
按預設單價表,競爭調整費率
Pricing nature
按標價形式分類
Lump sum total, with unit rates.
總價報價,輔以單價
Rates only, without total.
單價報價,無總價
Percentage.
費率報價
Degree of risks
按風險程度分類
Fixed price.
固定價
Price with fluctuation.
可調價
Cost plus fee (lump sum fee, fixed percentage fee, scaled percentage fee, sharing).
成本加服務費(一筆過、固定費率、遞減費率、分成)
Ceiling price / guaranteed maximum price.
封頂價
Funding arrangement
All funded by the employer.
Private finance initiative – public-private partnerships.
Contract relationship diagrams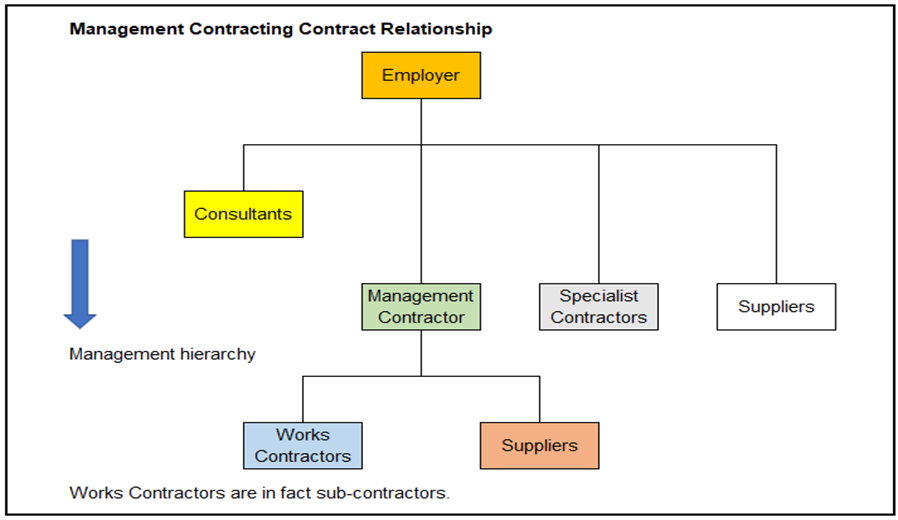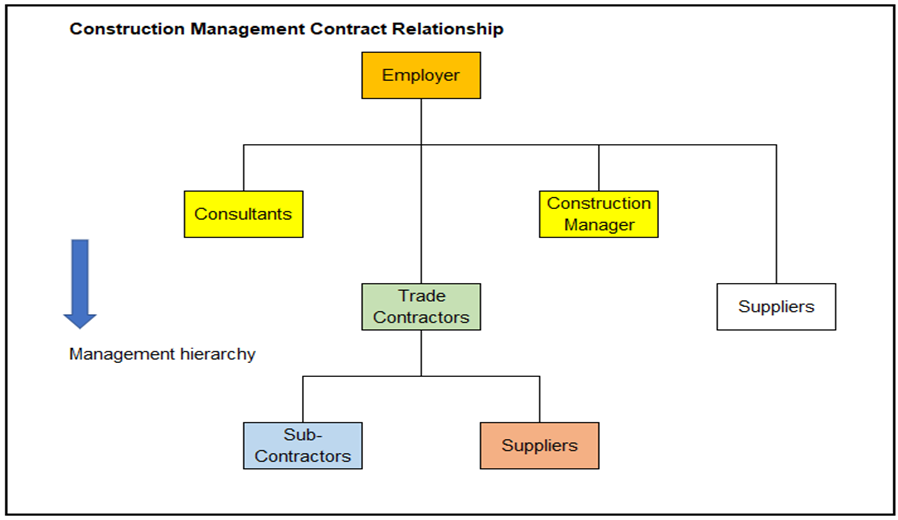 How to package contracts?
Optimum balance between the time required to complete every design and the time required to construct.
Optimum balance between single line responsibility and more control over choosing sub-contractors and suppliers.
Specialist works by specialist contractors/sub-contractors.
Responsibility for delivery time and wastage to be watched out if nominated supply contracts are used.
Usual contract packaging
總包分包的分拆
Site Survey Contract.
Ground Investigation Contract.
Demolition Contract.
拆卸工程
Piling Contract.
基樁
Main Contract.
主合同
Sub-Contract.
分包合同
Supply Contract.
供應合同
Other Direct Contracts.
其他獨立合同
Which form of contract?
Private or public?
Domestic or international?
Standard form or specially drafted?
Old or new versions?
With how much amendments?
How harsh?
See Form of Contract.
Risks sharing
風險的分擔
Soil conditions.
土質
Underground obstructions.
地下障礙物
Phased possession of site and completion.
分階段交付工地及竣工
Time for completion.
工期
Liquidated damages.
誤期賠償
Grounds for extension of time.
工期延長的許可原因
Grounds for monetary claims.
索賠的許可原因
Insurances and bonds.
保險及擔保
Defects liability period / defects rectification period.
保修期
Payment terms.
付款辦法